These DIGITAL MOVIE PORTRAITS make perfect gifts for ANY occasion.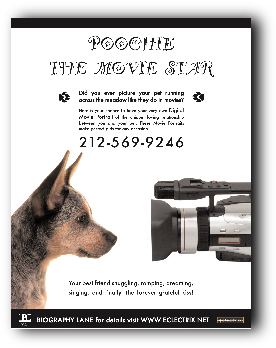 'AGENCY VIDEO' - We create 3-5 minute video portraits for Non-profit Organizations and Boutique Companies who want to implement video onto their websites to introduce themselves or their company in a friendly and professional manner.
'VIDEO RESUME/CV' - Enhance your resume/CV with

a video resume giving a personal touch

with a brief account of your education, qualifications, and previous experience. We will create a professional 2-3 minute high quality video portrait, capturing your personality, accomplishments and employment desires for your new employer's viewing pleasure.
'AN ACTORS REEL'

- Hire us to compile the best clips onto a professional DVD. Create a Movie Portrait of you your strengths and aspirations as an artist.

Get a digital file of it so that you have the option to post online on your website.

Shoot your own Custom Promo Video.

Film/Edit a 2 min. Monologue, Song, or Special Skill.

Casting Reel for auditions anywhere in the world with same-day turnaround.

An Actors Reel of edited clips of your best work.

Promote your next project and interviews behind the scene.
Sending your FIRST BORN to University? Why not capture this special moment for keepsake and family tree.
On MOTHER'S DAY, give her a gift that she will always remember, a Digital Movie Portrait.